ExpoFP, the leading provider of interactive floor plans for exhibitions, tradeshows and other B2B events, has released new mobile code that includes Crowd Connected's positioning algorithms. It means event apps can add blue dot wayfinding functionality – combining a floorplan with real-time positioning – with a single code integration.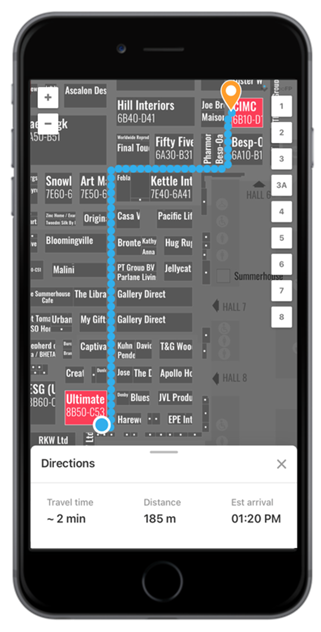 Crowd Connected's indoor positioning and visitor tracking technology is the market leader across the events industry. US-headquartered ExpoFP and UK-based Crowd Connected first announced they were partnering in November 2021 and have since worked together on multiple large-scale events. These include high profile deployments indoors (Money20/20, Spring Fair and Bett), outdoors (Digital X) and combined indoor-outdoor space (Cannes Lions), amongst others.
Crowd Connected's technology delivers not only the real-time positioning but also a full suite of footfall analytics tools, such as performance metrics for every exhibitor at a show.
The deeper ExpoFP-Crowd Connected integration is a response to a significant increase in market demand for digital wayfinding. Grip, a leading provider of mobile apps to the events industry, is the first vendor to use the new combined ExpoFP-Crowd Connected integration.
In 2022, ExpoFP will deliver interactive visitor-facing floor plans for over 500 events. Ross Sudentas, CEO of ExpoFP said: "How many times have we all been lost at an expo, looking around and trying to figure out where we are and how to get to where we need to! Well no more! It's a turn key component that any event supplier can add to their app and offer best in class navigation to any event."
Mark Maydon, Commercial Director at Crowd Connected said: "Blue dot navigation has quickly become a killer feature for event mobile apps.
"At some events, it is driving a 100% increase in app adoption and utilisation. And event organisers are even retitling their mobile apps to major on the navigation element, promoting the floorplan with blue dot as core functionality."
The 'blue dot' – shorthand for 'I am here' – has become second nature thanks to the proliferation of apps such as Apple and Google maps. But Google and Apple don't map temporary event environments, and GPS (the satellite technology used to position a mobile device when outdoors) doesn't work inside a building. So a combination of floorplan (ExpoFP) and positioning system (Crowd Connected) is required.
This addresses fundamental inefficiencies that are well recognised by organisers of large scale events post-COVID. Faced with an unfamiliar physical environment, too many visitors are struggling to find what they came for, or failing to discover exhibitors or other show elements that they didn't even know were there. And with time at a premium, visitors frequently don't get to scheduled meetings on time, or leave at the end of the day having not met with all the people they intended to.
Even a small increase in the efficiency of a show's ecosystem can unlock millions in the value delivered by the organiser.