How Crowd Connected and ExpoFP redefined visitor experiences at Clarion's ICE London
QR Code Wayfinding Is Revolutionising Large Scale Events
Navigating your way around an exhibition just got easier.
If you're organizing a large-scale event, it's more important than ever to make sure that visitors can find their way around with ease to improve experience and satisfaction scores.
QR code wayfinding is revolutionizing event experiences. This easy-to-deploy, cost-effective and innovative wayfinding technology makes it easy for attendees to navigate any size event, anywhere in the world with no barriers to access.
Crowd Connected partnered with floorplan experts ExpoFP to deploy its interactive floorplan with QR code wayfinding at Clarion's ICE 2023 – the largest ever single tenancy occupancy at London's ExCeL.
The Problem with Event Wayfinding
Event organizers are losing revenue because visitors are finding it difficult to navigate around the show environment. With visitors unable to locate their next meeting, the exhibitor booth they want to check out, or even core venue facilities, time is wasted, engagements missed, and participants leave feeling dissatisfied. Put simply, business is lost, and the overall value of the event is impacted.
This is particularly acute with first-time visitors – which for some shows could be 40%+ of attendees – who all-too-frequently find themselves lost in an unfamiliar environment.
Many senior attendees have limited time, so being able to locate specific exhibitors is key to achieving ROT (return on time). If these individuals leave without achieving their agenda, everyone loses.
The Cost of Attendee Churn
The exhibition industry is up against it when visitor and exhibitor retention rates are low. This means that significant investment must be made in customer acquisition, which costs an average of 5-10 times more than keeping the customers who have already visited or exhibited at your event.
With event navigation increasingly becoming a major hurdle, event organizers are feeling the pinch.
To date, the cost associated with equipping an indoor venue with effective navigation has frequently been considered a barrier. Widely adopted digital solutions such as Google or Apple Maps cannot be used to guide guests through internal spaces, as Google and Apple are unable to map the event layout.
Clarion Gaming's ICE London 2023
The ICE management team recognized show navigation was a problem that needed attention.
With an impressive 100,000m2 of custom exhibits, spanning 41 halls of ExCeL London venue, previous show visitor surveys highlighted that the sheer size and scale of the event meant show navigation was a challenge and this was detracting from the overall visitor experience.
Andy Ventris, Event Director at ICE, explained: "ICE has the biggest footprint of any exhibition at London's ExCeL, so navigation can be challenging, especially for first-time visitors who are unfamiliar with the show.
"What's more, the sheer size and scale of the exhibits make it hard for any obvious navigational signage to be easily located and utilized." Clarion Events, the organisers of ICE London, turned to Crowd Connected to provide an innovative solution for an event that didn't have a downloadable mobile app. The brief required a solution that would be effective in helping visitors find their way around the show, straightforward to communicate and simple to use.
The Solution: Event Navigation Made Simple
Any event can now have an interactive, mobile-optimized interactive wayfinding experience for everyone at the show. Crucially that is easy to deploy and at low cost. Location-technology specialists Crowd Connected partnered with event floorplan experts ExpoFP to deliver a QR code wayfinding solution that revolutionizes visitor navigation at Clarion's ICE Gaming show – without the need for an expensive event app.
The partnership provided ICE London visitors with an easy-to-use experience accessible immediately via their mobile phone. The solution involved displaying QR codes incorporated into various physical displays strategically located around the show, including at the entrances and at key intersections across the show floor. Scanning the QR code opened the digital floorplan with the location highlighted, enabling stress-free wayfinding.
Rebecca Davis, Operations Manager at ICE said:
"Crowd Connected understands the pressures a show team are under in the immediate build-up to the show. Their collaborative approach and can-do attitude was brilliant – they made it super easy for us."
Rather than specify the specific locations of the QR codes in advance, Crowd Connected's innovative solution enabled the QR codes to be deployed as the physical materials were out in place, and their positions verified in a less than two hours, ready for scanning by visitors as soon as the show opened.
The Visitor Experience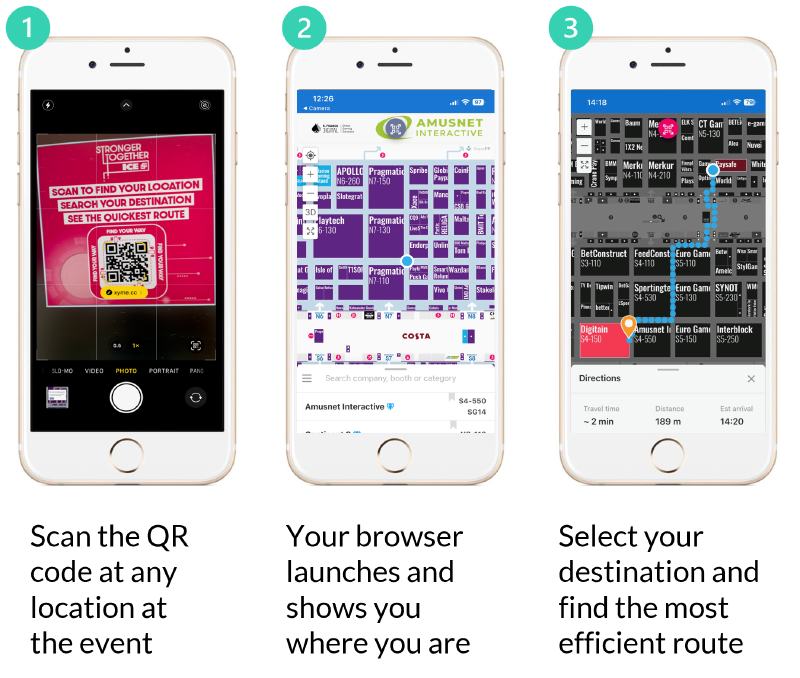 The Results
40,000+ attendees over three days of ICE London were provided with an easy-to-use, self-service wayfinding solution for the event. This effortless experience enabled visitors to easily find their way around the event, taking the hassle and confusion out of navigation.
"I was really impressed with the navigational solution. I could quickly and easily find my way around the event. It made my experience so much smoother and enjoyable." (Richard - first time visitor to the show)
Crowd Connected's QR code wayfinding solution was enthusiastically met by visitors, with over 16,300 floorplan views generated and each user typically searching the map 4.5 times.
Over 750 points of interest were mapped across the venue – everything from transport, food and beverage, meeting points to the exhibitor booths and show features. Feedback received highlighted how it enhanced the experience for guests to navigate easily around meetings or exhibitor booths and venue concessions quickly - saving them valuable time in their day.
Event director Ventris concluded: "Crowd Connected's combined QR code and digital floorplan solution delivered on the brief, exactly as I hoped – even without a mobile app. I was delighted with how well it worked, and how visitors loved having the ability to locate themselves on the show floor easily and quickly.
"We're back at ExCeL for ICE 2024 and I'm looking forward to working with Crowd Connected to further enhance the visitor navigation experience, as well as unlocking visitor footfall analytics. It's that type of hugely valuable insight that can help us to continue to deliver a best-in-class show experience for our exhibitors and visitors." Operations Manager Rebecca Davis added: "I'd recommend Crowd Connected to any organiser looking to make their show easier to navigate."
Benefits of QR Code Wayfinding
QR code wayfinding is quickly becoming a cost effective method for modern events to revolutionize the visitor experience.

Contact Crowd Connected or ExpoFP today to see how simple it is to deploy at your next show.